A Bitcoin Poker Guide – How to Get Started
The world of online poker has changed a lot in the past couple of years, and Bitcoin (BTC) and Cryptocurrency has moved into the mainstream. Poker sites have been quick capitalize on the vast number of benefits offered to both players and card-room operators by gambling online with cryptocurrencies like Bitcoin (BTC), Ethereum, and others.
To view the top rated BTC poker sites according to our reviewers, visit our Best BTC Poker rooms page.
What is Bitcoin Poker
Bitcoin poker refers to playing on a poker site after depositing via Bitcoin. Some online poker sites will convert the money you deposit to FIAT (bank / state backed currency) and you will play in a familiar currency in the poker room (i.e. you might deposit $100 worth of bitcoin and get $100 USD in your account, and play with it), or in some other cases, you will be playing in mBTC (1/1000th of a BTC = 1 mBTC) on the tables, and your account balance will be held in BTC.
Much of the reason BTC poker has become such a success is due to the legal status of online poker in the USA, and elsewhere. In many cases, poker players are not able to deposit online using FIAT currency.
Bitcoin sounds complicated right? Wrong! In this guide we cover everything you need to know to get started with playing poker online using Bitcoin.
Why do poker players trust Bitcoin?
The magic of Bitcoin is speed, security and anonymity.
Key Benefits:
Low transaction fees for the room and you
Private, anonymous poker, no personal details needed, no bank or cc statements
Highly secure deposits in minutes
Rapid cash-outs and deposits
Decentralizated from banks and government.
ANONYMOUS PRIVATE POKER
Privacy when playing poker online is very important for most players, and with the nature of Bitcoin, personal information commonly required in other payment methods such as credit cards or bank accounts is not required.
The lack of details needed for deposits and withdrawals, mixed in with the rapid transactions, makes bitcoin a great option. All that is needed is your bitcoin wallet address attached to your account and you're all set.
It's the perfect form of currency that adds that extra layer of anonymity players would appreciate when dealing online. Thanks to bitcoin's independence, you can also expect lower fees compared to what you usually go through online.
BITCOIN POKER GAMES
On bitcoin pokers sites the game limits, bets, and pot values are usually shown in Bitcoin units (or mBTC, thousandth of a Bitcoin) not dollars, which can take a little getting used to. Some sites do have a "switcher" to toggle to a USD or other FIAT currency view.
Once you get your head around the values of Bitcoin and mBTC the rest is absolutely identical to any poker you have played before.  Until you are comfortable working in mBTC, you should always check and double check your math.

Screenshot: converting between currencies using our BTC / USD / mBTC Converter
GETTING STARTED WITH BITCOIN
If you are new to Bitcoin, you will first need to create a Bitcoin wallet. A couple of the more popular digital wallets our players are using include Blockchain.com, Coinbase. Verify your email address and you should be good to go.
Once your wallet is created, you will need to purchase Bitcoins. There are plenty of ways to buy Bitcoins – the most common method is through an Exchange like Blockchain.com, Coinbase, Kraken, Bitstamp, and many more.
Once you purchase your Bitcoins from exchange, transfer them into your very own crypto-wallet.
HOW CAN I DEPOSIT BITCOIN INTO A POKER SITE?
Log-in to the poker site and go to the Cashier
Click on Deposit
The site will provide you with a BTC address (an identifier of 26-35 alpha-numeric) or scan the displayed QR code (barcode) which contains the same information.
Now you can send a BTC or mBTC amount of your choice from your crypto wallet to ours using the alpha-numeric address provided by our cashier. The address can only be used once and has an expiration time so don't wait too long or your deposit may show delays.
A "transaction completed" message will appear on the deposit page when done. Usually the transfer will take minutes, but it may take up to two hours to complete.
BUYING BITCOIN, WALLET, & EXCHANGE
An Online exchange is typically where players purchase bitcoin. Traditional fiat currencies can be converted to cryptocurrency or bought through payment methods such as credit cards, and even Paypal.  Blockchain.com, Coinbase, and GDAX are popular Online Exchanges, but we also recommend using sources like cryptocurrencyhelp.com and Bitcoin.org that can identify best options in your area.
There's also a more direct and anonymous approach – Bitcoin ATMs exists and if you have access to one then this would be a great way to convert your money to cryptocurrency. Just feed the machine some fiat currency and you'll be credited with Bitcoin that will go straight to the bitcoin Wallet details you provided. The transaction concludes in minutes. Person-to-person trading is possible but is only advisable if you know someone you can trust to make the exchange.
BITCOIN POKER FAQ
What is Bitcoin?
Bitcoin is an electronic currency and payment system based on an open-source, peer-to-peer internet protocol. There is no centralized issuer; instead individual users volunteer computing power, executing and recording the Bitcoin network's transactions in a decentralized way. More information can be found at bitcoin.org and blockchain.info.
Is Bitcoin Secure?
Through its strong record for security, Bitcoin has gained a reputation as an extremely safe technology. Bitcoin does not require you to input any of your personal or private information when making a transaction.
All Bitcoin transactions are done using two keys – a public key, visible to everyone, which is your Bitcoin address and a private key that is only known to you. When sending Bitcoin, a combination of your public and private keys together is your signature.
Where can I play poker with Bitcoin?
View our homepage to see our recommended Bitcoin poker sites. We review all of our partner poker rooms thoroughly, and not every site makes the grade to be listed on Poker.com.
When will my Bitcoin Deposit Be Available to Play With?
Bitcoin transaction times vary, depending on various factors. The average Bitcoin transaction time is currently around 1 hour. Transactions may take anywhere from 10 minutes to over 1 day.
The key factors which affect Bitcoin transaction times are the amount of network activity, the transaction fees (did you know that users can pay more fees for faster transactions?). It is up to a processor how many confirmations they will accept for a transaction to be marked as 'received' and credited.
As with all forms of financial transactions, there is always a slim chance that the intended recipient does not receive the intended funds. For this reason, more confirmations in the blockchain means less risk for recipients. Most "strong brands" will credit your account quickly, after just 2 or 3 confirmations in the Blockchain.
Are there deposit/withdrawal fees for using Bitcoin?
Poker sites which offer Bitcoin poker support crypto because it reduces their overheads, alleviating the need for them to pay credit card and payment processors.
Poker sites generally don't charge any fees for deposits or withdrawals with crypto. The only 'fees' you pay are the network fee incurred on the blockchain for your transaction.
How do I request a withdrawal via Bitcoin?
Simply visit the cashier in the poker room, and enter your recipient bitcoin wallet address and the funds will be sent once the poker room has verified your cash-out is legitimate (not fraud).
Can I cancel a Bitcoin withdrawal after requesting it?
No. There is no reversal mechanism when sending or receiving cryptocurrency such as Bitcoin, Litecoin, Ethereum etc.
What are the Bitcoin deposit and withdrawal limits?
This varies from site to site, with some sites accepting as little as $5 equivalent, while others will have slightly higher minimum limits, starting at around $20 equivalent in BTC.
Can you show me an example of a bitcoin transaction?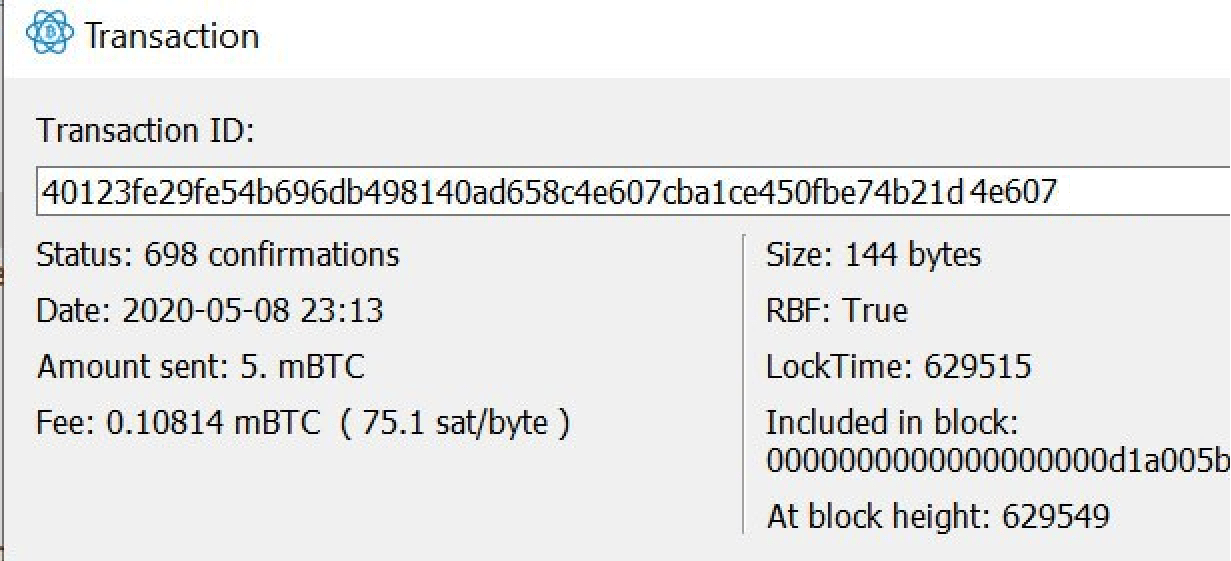 Things to know: In 'tech land' and crypto land, TX stands for transmitter, or sender, while RX = receiver / recipient
In the screenshot above, you can see
The transaction ID – a unique identifier for your transaction in the blockchain. You can send this to the recipient so that they can track the funds. E.g a popular site for tracking transactions in the Blockchain.com Blockchain Explorer tool, where you can paste in any transaction ID and track its movement across the network
Over 600 confirmations were completed on the network before the transaction completed.
The network fee – The network fee is required to be paid for every Bitcoin transaction without exceptions in order to get mined and included to the blockchain. The fee is generally based on the size and speed of the transaction. In the screenshot (May 2020), the fee for sending 5mBTC (50$ BTC equivalent) was 0.108 mMBTC, equivalent to around 2% – the same as sending $50 and incurring a $1 fee.